Hello everyone,
The team are delighted to announce the release of the long-awaited Stripe integration for Trade Store payments

To take advantage of this integration, you will need a Stripe account. If you already have a Stripe account, then you can link Breww to this account (Stripe will create a new account linked to your main account - think of this as a sub-account). If you don't, you can create a Stripe account in the Breww integration flow. Breww is launching this feature at no extra charge! Stripe do have their own card-processing fees, however, which you'll have to pay, but they don't charge you anything extra for orders via this integration, versus their other payment flows.
Setting up the integration is easy and can be done in about 5 minutes if you have a Stripe account already (if you don't, I'd allow at least 15-20 mins).
To get started, head to Integrations → Payments → Stripe.
Once you have enabled the Stripe integration, you can go to your Breww Trade Store settings and choose when to charge your customers, with the following options:
Accept all orders without online payment
Require online up-front payment always
Require online up-front payment if order would put customer over their credit limit
Plus the option of "Allow your customers to choose to pay online even if they don't need to based upon the rule above".
---
Based on your settings, your customers may be presented with some payment options during the checkout:
---
If they proceed to place an order and pay for it, you'll see the order in Breww is immediately marked as paid and you can see basic information about the card used to pay for it. The user shown will be the name of the person logged into your Breww Trade Store and placing the order.
---
If a payment is returned to the customer's balance, you'll see this in their account (just as you would with all other payments), but you'll also be able to see the card details.
---
If you choose to refund a "Breww managed" payment, then instead of the usual options of how you refunded, the date, etc, Breww will simply ask for an amount and will instruct Stripe to give your customer their money back. There's no need for double-entry!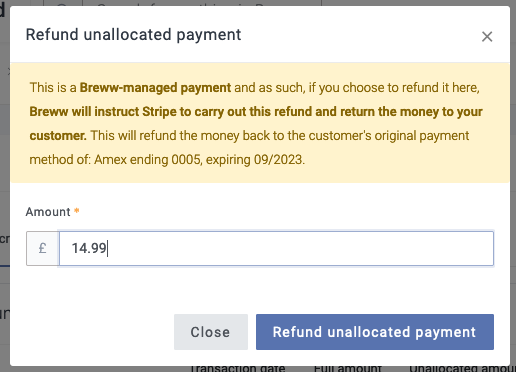 ---
In addition to all of this, if the customer places an order via your Breww Trade Store (or a payment link - coming soon), then their card will be securely stored by Stripe and you'll be able to add extra charges to it (with the customer's permission of course). This is ideal if your customer orders something via your Breww Trade Store, pays for it, and then calls up to add/change something that results in a larger order value.
---
We hope this feature is useful for you and helps you grow your business. We're delighted with how this integration is working already and have more big plans to make it even better! We going to be working on these additions shortly:
Adding payment links to invoice emails
Direct debit payments via the Stripe integration (it's card payments only at the moment)
In-person (terminal) payments
GoCardless direct debit payment
Please let us know how you get on and any feedback you have!